Welcome to the I.B. Information Technology in a Global Society (ITGS) Wiki
In this ever rapidly changing world of ICT keeping up is challenging!
This ITGS wiki is a collaborative resource project designed to be used by I.B. Information Technology in a Global Society (ITGS) teachers and students.
The I.B ITGS teacher and students work together researching, entering and editing each others additions on topics in the field of IT and its impact on a global society. The aim is to use and develop higher order thinking skills, co-operative learning procedures and interpersonal skills in a project based learning environment.
The hoped result is a resource and project wiki dedicated to ITGS that will continue to evolve with the changing world of ICT.
The best part ... we can show off what we are learning!
This is not a locked wiki and if students and teachers wish to join in and make this wiki a truly wonderful resource please do. EDIT AWAY
Maybe we could even do global projects ....
---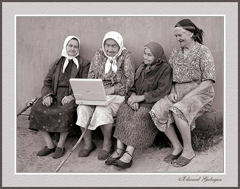 Germany's spy agency says China is using the site to gather information on politicians.
Trading in futures contracts is a step towards legitimising the digital currency, its supporters say.
The game streaming site has been criticised for tolerating a growing number of 'sexual streamers'
The music recognition app already makes most of its money by referring music buyers to Apple's iTunes.
A woman raped by a driver in Delhi says executives got her medical records after doubting her story.
Three people share their experiences of buying Bitcoin.
---
Contrary to popular (female) opinion, you can have all the symptoms of the flu without being infected.
While Gallileo thought the moon had nothing to do with the tides, the Yolngu people from the Northern Territory knew better.
New research suggests the tax office should expand the list of acceptable explanations for procrastinators' yearly extension requests and late tax filings. Two possibilities: "I was born this way" and "failure to evolve".
---
Please note: Any I.B. syllabus statements included on ITGSWiki are NOT under any free license and remain the property of the International Baccalaureate Organisation (IBO). They are reproduced here for personal study purposes only.
ITGSWiki is licensed under a Creative Commons Attribution-NonCommercial-ShareAlike 2.5 License